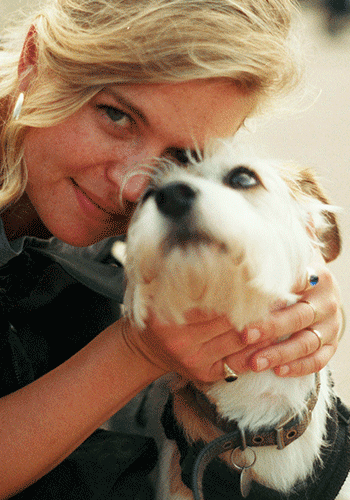 Good outcomes in counselling and psychotherapy are determined by the strength of the therapeutic relationship. This is largely down to the fit or connection between therapist and client as unique individuals, rather than the type of therapy. It's therefore very important that you choose a therapist who you feel comfortable working with in order to make the most of your experience.
Working mainly from a person-centred perspective, I also draw on the multiple theoretical approaches that I have explored within my therapeutic training and study, including; psychodynamic understandings of experience, cognitive-behavioural therapy (CBT), and art psychotherapy. I enjoy working creatively, and when appropriate, with a sense of humour.
My therapeutic approach is centred around exploring your experience and encouraging you to fully embrace your emotions, in order to establish exactly what's going on for you. Sometimes, having a better understanding and naming exactly how we feel can be the first step towards resolution and relief. I believe that we all have a drive towards our own unique potential, and I will and encourage you to connect with and follow your instincts and sense of judgement.
I value all of the different parts of you (even the ones you may struggle to accept), and I can help you to establish what each of these parts may be needing or trying to achieve in your life. Overall, counselling can help you communicate and operate more smoothly within yourself; as well as reconnect with important parts of who you are, your strengths, and internal resources. I will support you to be compassionate and patient with yourself in making the changes you feel ready to make, when you feel ready to make them. You may also find it valuable to hear a different perspective on your situation, or to have what you bring to counselling gently challenged.  
Being genuine and honest is an important part of my approach – and I hope we can meet and appreciate each other as two unique individuals. I believe that you are the expert of your own experience, and I aim to be alongside you on your own journey of exploration, discovery, and growth. I work in a collaborative way that offers you the flexibility to explore and process what you feel is important at your own pace.
My main therapeutic training includes:
MSc Person-Centred-Experiential Counselling & Psychotherapy – University of Strathclyde
PGCert Psychodynamic and Person-Centred Counselling –University of Edinburgh
BA(Hons) Psychosocial Studies – Goldsmiths, University of London
I am dedicated to continued professional development, so regularly complete additional training and workshops. For example, I have recently started a post-qualification training in counselling children and young people. As a registered member of the British Association of Counselling & Psychotherapy (BACP), I work within BACP Ethical Framework for the Counselling Professions.
My practice has been developed in a number of different settings across the education and voluntary sector, as well as within the NHS. Alongside my private practice, I work as an arts-based mental health group facilitator and a counsellor in secondary schools across Glasgow and Renfrewshire. I have a background in refugee support and therapeutic group facilitation, and I am passionate about broader social justice, as well as supporting individuals one-to-one. I am also interested in counselling and psychotherapy research that enhances and evolves counselling practice. Unsurprisingly, I love connecting with people and I am extremely passionate about what I do. This passion comes from my personal experiences of counselling which have been transformative for me during difficult times in my life, as well as my work as a counsellor. I feel honoured to be able to be with people in the depths of their experiences, and always feel inspired by the incredible strength and determination that I see in my clients.